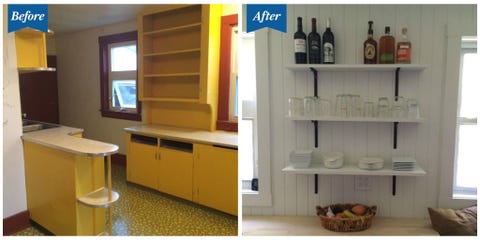 Last fall, I moved into my boyfriend Doug's farmhouse. Located on a 1,000-acre family-run farm in southeast Iowa, the traditional two-story, four-square-style house was built around 1900. Doug has lived in this red-roofed house, surrounded by oak trees and a couple of weathered white barns, for 41 of its 116 years. He had replaced the roof and windows, and added weatherproof siding, but apart from painting the kitchen cabinets canary yellow, made no changes to the interior. Before I moved in, he had a climbing rope for a clothesline in the dining room, a beer bottle collection lining the kitchen plate rail, and camping gear serving as his bedroom wall décor. Imagine all this covered by 41 years' worth of dust.
Still, it was charming in a bachelor-pad-meets-authentic-farmhouse kind of way. Much of the house's original features were still in tact: the doorframe woodwork with its carved moulding; the wallpaper, faded and flowered; and the white porcelain sinks with separate faucets for hot and cold water. The place could still evoke the warmth and security of a grandmother's presence — its musty, woody scent reminded me of my own grandmother's house, minus the mothballs and green beans in the pressure cooker. Even so, it was obvious its current occupant was focused on the outside, not the inside.
When it became clear that I was staying — really staying — I lamented how I was having a hard time feeling at home. It was Doug's house, not our house. There was not enough room for my stuff, for my personal expression, for me. I made it my mission to make some space, but after several months of great effort and elbow grease it became apparent that no amount of de-cluttering and dusting, or closet space claimed, would be enough. It didn't matter how many trips to Goodwill I made or how many pieces of my own furniture I squeezed in between his, it still wasn't enough. And so, in a sign of solidarity and commitment, we found a solution and did something that neither of us had done before, never dreamed or dared to do before: renovate.
We only tackled two rooms, the kitchen and bathroom, but that was enough to become educated and enlightened, enraged and enamored — sometimes all at the same time. Here is what I learned:
1. MY PARTNER AND I ARE IN SYNC.
When we first started our project, I spent time on websites like Houzz and Pinterest. Then, together, we looked at magazines and scouted home improvement stores. We may come from different backgrounds and we may be different genders, but we kept discovering that we liked the same style when it came to choosing things (the canning jar chandelier, the odd-shaped lavatory, the expensive white quartz countertop, the oven with the bright blue interior). This came as a surprise given his furniture is all dark-wood Arts and Crafts antiques while mine is sleek, modern, and light (and mostly Ikea). Instead of being a source of tension, our shopping excursions were a bonding experience. With every new purchase, I could feel my heart expanding with even deeper love and appreciation for my man.
2. MY PARTNER AND I ARE NOT IN SYNC.
Doug is a farmer. I am a writer with a career in public relations and producing. Doug's work is ruled by the weather, which you cannot control. My work is dependent on deadlines: miss them and you're fired. So while we were 100 percent compatible with the design, we were equally out of sync when it came to the timeline. I would hear him on the phone with the contractor, the electrician, or the plumber, always saying the same thing: "Whenever you can get to it." Upon hanging up I would go ballistic. "You have to get them to commit to a time," I screeched. The lowest point, however, was our discussion about the projected end date of the renovation. It went something like this:
Me: "I was thinking by mid-June." (Demolition began on April 4.)
Doug: "As long as it's done by the pig roast." (His annual party with over 100 guests.)
Me: "That's in SEPTEMBER!"
Doug: No response. Goes outside to mow the lawn or check on the cows.
3. HIRING LOCAL HELP HAS ITS PLUSES AND MINUSES.
One of the biggest challenges for me was the fact that Doug hired locals to do the work. Of course, he did: Local is convenient. Local support the area's economy. Local is the right thing to do. We are in a rural area where everyone knows each other, grew up together and went to school together (though, luckily, not everyone is related). Doug had the direct line of communication to the workers — and to their schedules (see #2 above.) After griping and bellyaching way too much, followed by some desperate meditative soul-searching, I realized that my issue was that I was used to being in control. And now I wasn't. Independent Me had to depend on everyone else to show up, do their jobs, and to rely on Mr. Laidback Farmer to make sure all that happened. I was going out of my mind and needed to calm down—or risk losing my relationship completely. I chose to calm down. And to go out of town for a few days at a time. I also learned that exercise—grinding out my energy on the long gravel roads—was a helpful way to work out my impatience and help me feel more in control.